Promoting great places to fish in the North West.

We fish many venues from clubs, fisheries, canals, rivers and lakes. We are no experts, but we know our passion of this sport is shared by many, and we hope this site will help others. We will be posting reviews of the venues we fish including what peg, tactic, method and bait used. We will include links to fishery websites, address and phone numbers of the venues we visit. If you would like us to visit your fishery or club waters, or if you would like a day on the bank with us please send us ad email. If you see us on the bank pop over for a chat, and if you want to know where is fishing well, as Carl says from the team "Always follow the green hoodies"



Coming Up.


Have a look below to see what the team have got coming up this year, from features, angling shows, charity matches, fishery family and fun days to just days on the bank.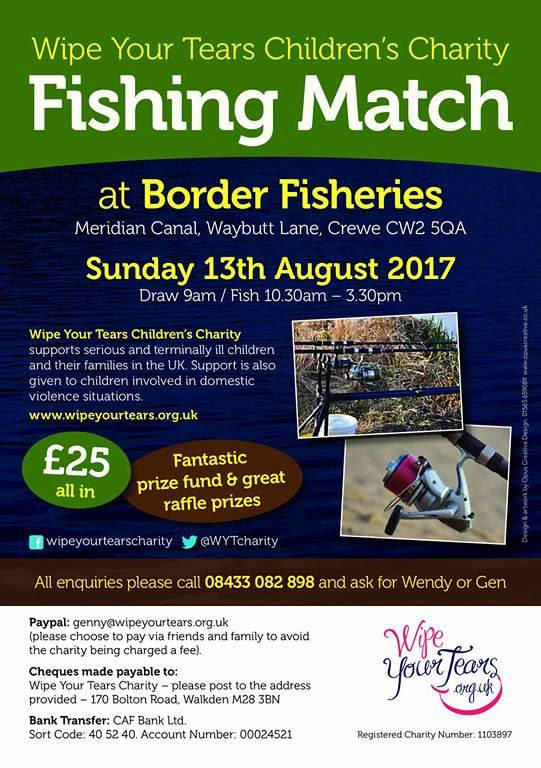 Working with Improve Your Coarse Fishing Magazine.IYCF Website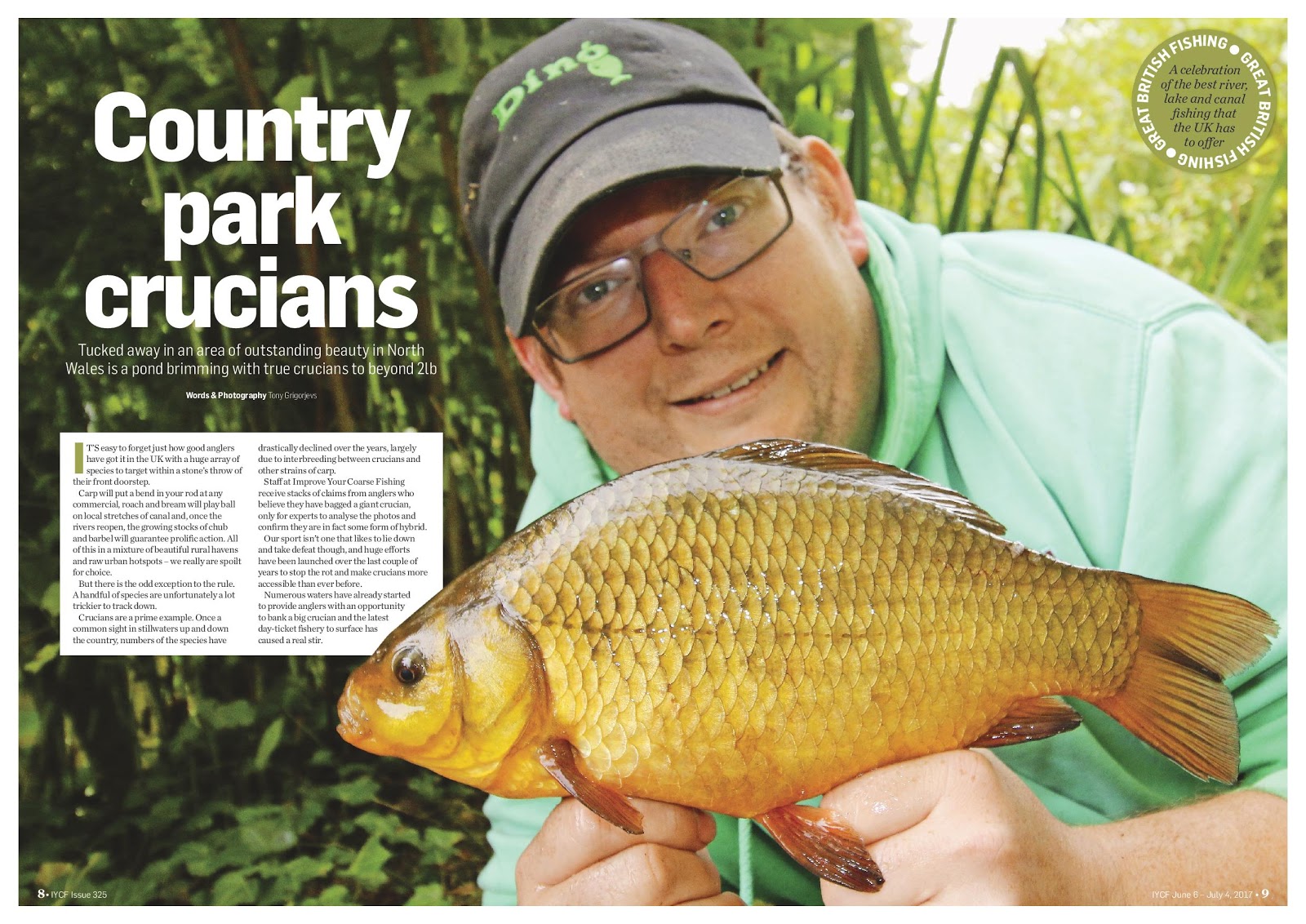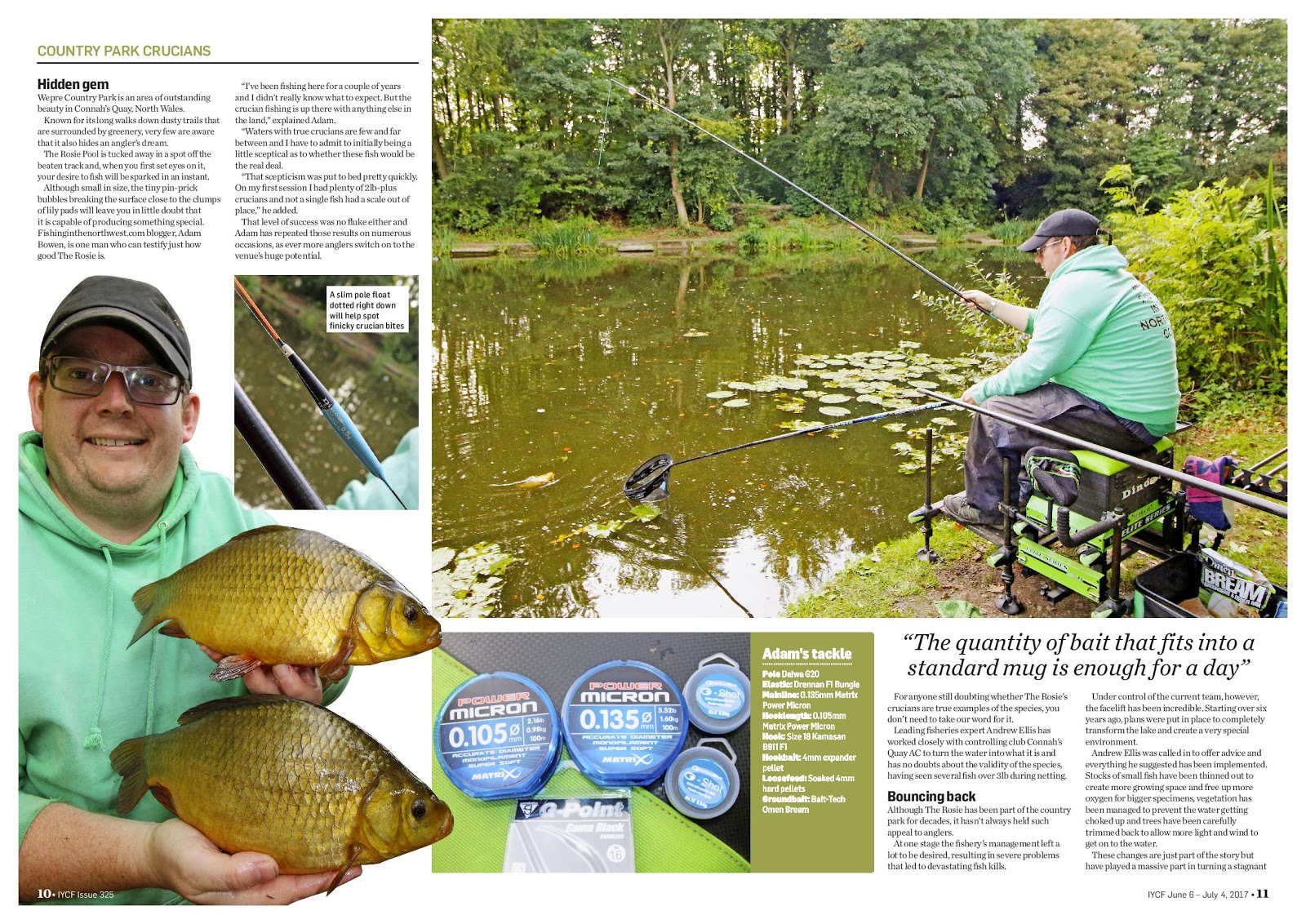 Working with the Angling Times.
www.anglingtimes.co.uk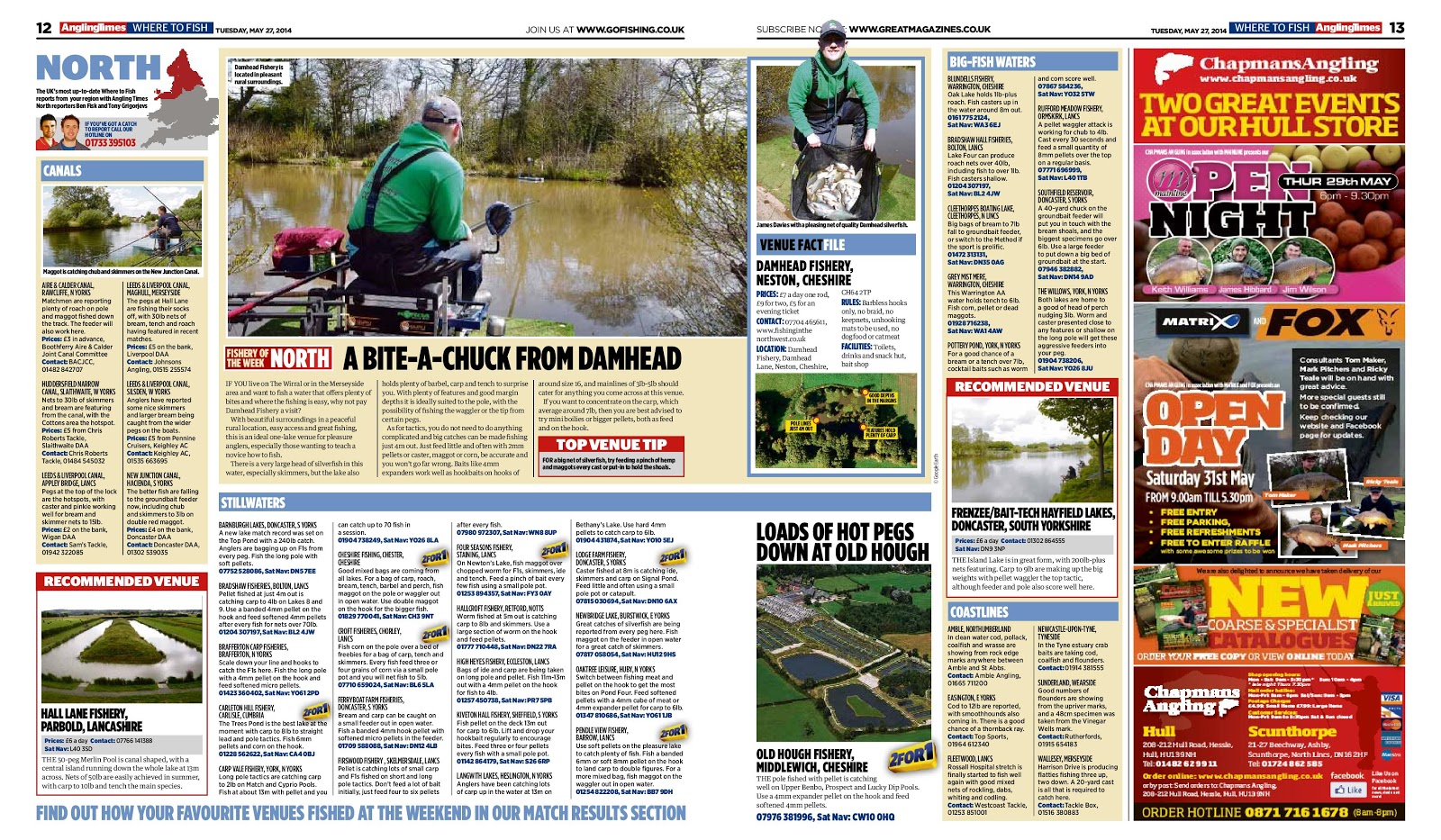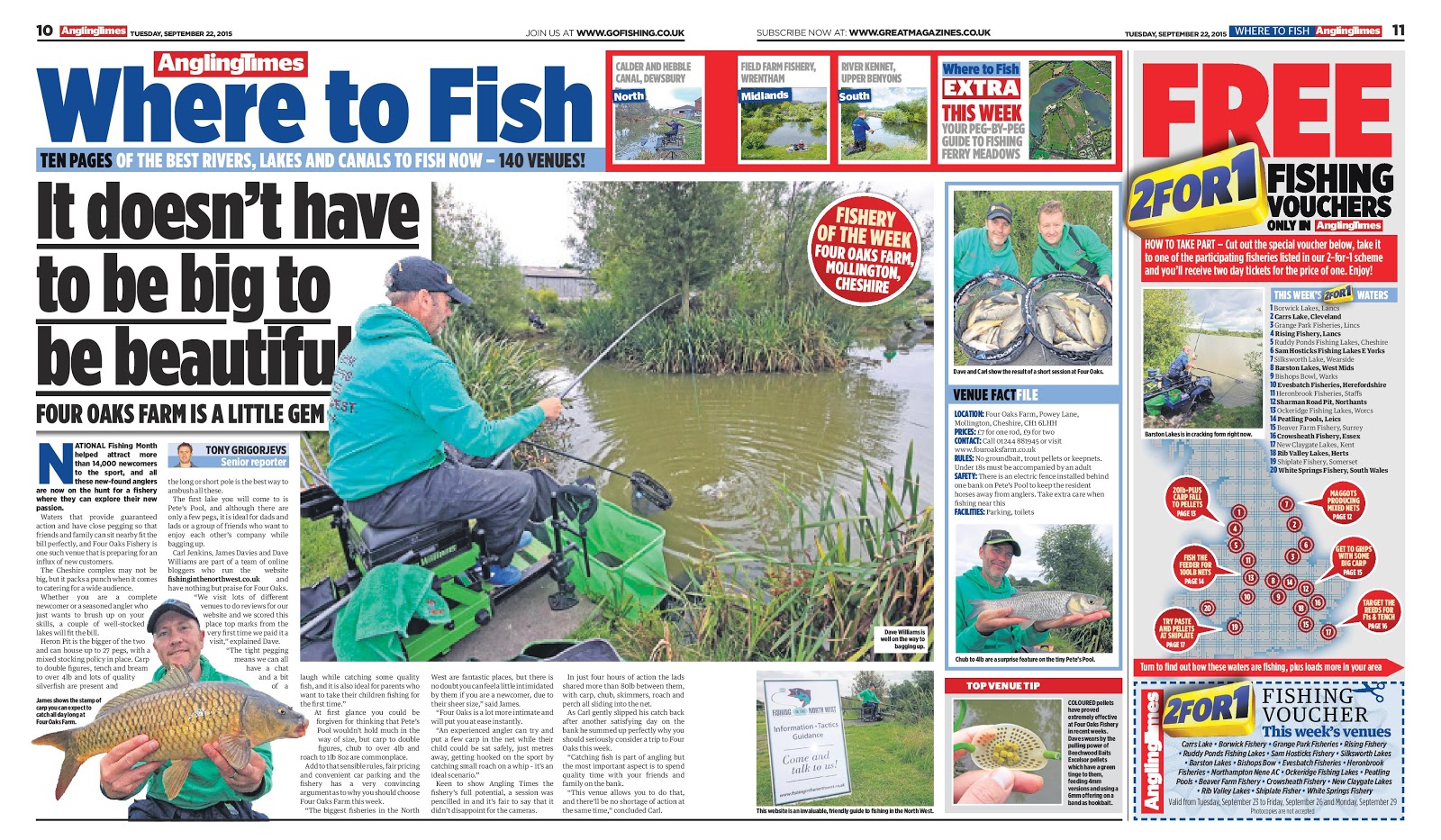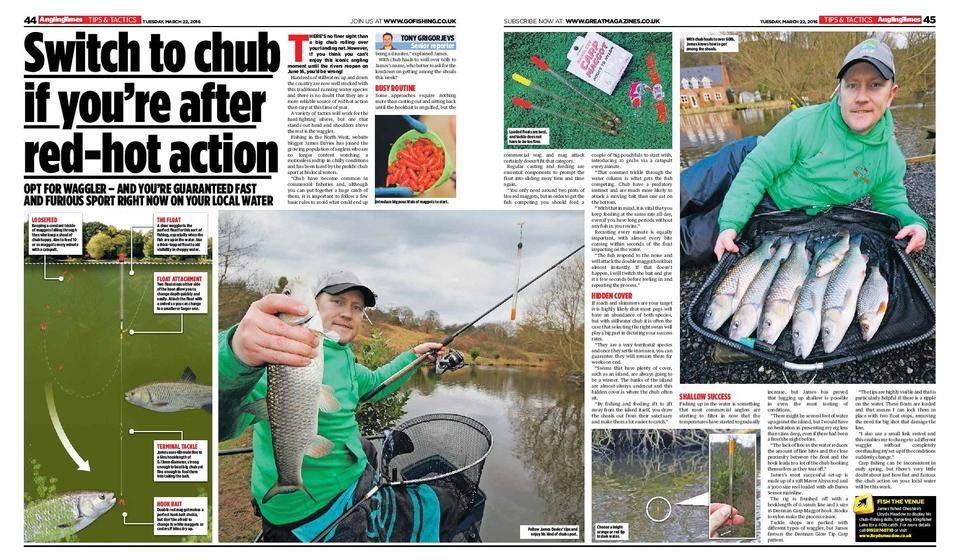 ---
---

Angler Testimonials.

Working for the Angling Times news desk entails tapping into every resource possible to uncover the best stories and fisheries around and in my experience, they don't come much better than Fishing in the North West.
Their dedication to uncovering the best and my most in-form venues in the area is second-to-none and their willingness to share their winning tactics deserves credit.
Angling Times has started working with the team on a regular basis and we intend to continue this relationship to strengthen both brands for the future.
Twitter: @tony_grig
 Tony Grigorjevs
News Reporter/Features Writer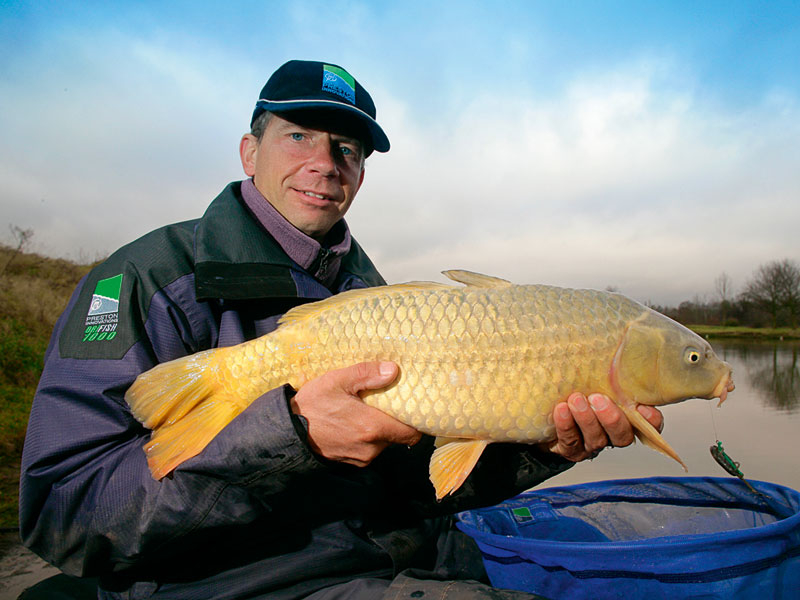 "its great to see your prepared to share information with others Adam, to help there  fishing" Andy Findlay (Preston Inovations & Sonubaits)
http://andyfindlay.co.uk/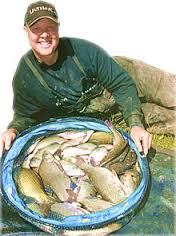 "Fantastic website Adam, very informative and all of the venues you have listed are well worth a go, in particular Partridge where we met.  Its great that you can share this information for those anglers who don't know where to start, all these venues are guaranteed to give you bites, see you soon" Andy May (MAP and Kamasan Champion)
http://www.fishingcoaching.co.uk/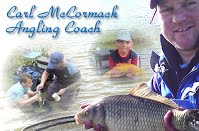 "Hello Adam, its Carl McCormack, we met on saturday. I have had a look at your website and your doing a fantastic job,your passion and will to share is awsome mate keep it up"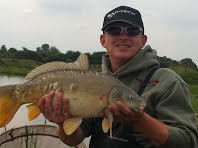 "Hi Adam, a fantastic website which gives any angler a true insight to all the great venues. Keep up all the hard work and I wish you and your team all the best" Pete Mahoney, Leigh tackle/Bait-Tech/Dino Floats. For all updates on what Pete is up to follow the Facebook link below. http://www.thebestfloats.co.uk/
https://www.facebook.com/petemahoneys.fishingpage?fref=ts

http://www.bait-tech.com/8051/pete-mahoney-on-the-method-feeder/
http://www.bait-tech.com/8137/pete-mahoney-on-the-pellet-waggler/
http://www.bait-tech.com/8257/fishing-the-pop-up-on-the-pole-pete-mahoney/
http://www.bait-tech.com/8376/pete-bomb-pop/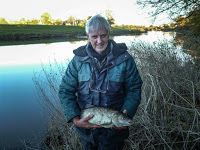 This is to thank you again for the two days we spent together on the Severn near Shrewsbury last week. Although the barbel weren't biting I did learn a tremendous amount about barbel techniques from you.I leaned about the rigs, the bait, the correct casting, the feeding and all aspects of river fishing. I would also like to thank you for giving up so much of your time and wisdom on the river environment. The second day was very interesting and I leaned about the technique of trotting which I will definitely be doing.This was a nice way of fishing which will take some practice but well worth it. And last of all thank you for your company.

---
Site Supporters.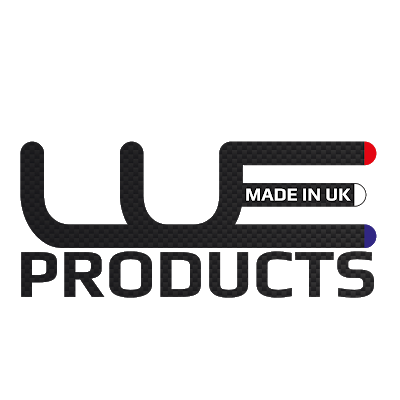 DO YOU WANT TO PROTECT THE END OF YOUR POLE FROM CHIPS, DEBRIS AND DAMAGE?
New inventive family business that provides affordable products to anglers. Our products have been specifically designed by an angler who knows what is needed and is useful. We know that the most expensive piece of equipment for pole fishing is your pole therefore we have products for you to look after your precious carbon.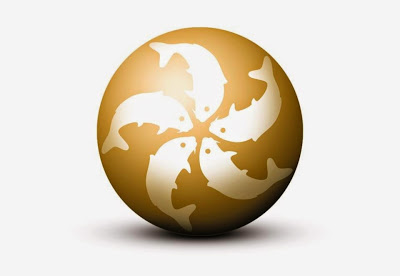 Beechwood Baits Ltd is a family run fishing bait business based in the North West of the UK. Specializing in high quality HNV food bait boilies, designed and built to catch carp from the off, long term. Each bait is meticulously designed and tested, with carp nutrition a key factor along with attraction, palatability, digestibility and longevity. We design each bait around a goal, and stick to it. This ensures we produce baits specifically designed for applications, allowing them to excel. We're a friendly bunch, so give us a call, or send us a message if you have any questions, we'd be glad to help.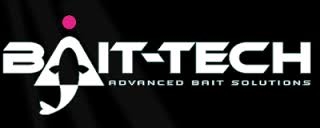 Our ethos has always been that we had to produce truly outstanding products from only the very best of suppliers. As anglers ourselves we know the true value of using the best baits, as some of our team of field testers will testify and show you!All of our products are manufactured and sourced using only the highest quality ingredients and additives and most are supplied exclusively to Bait-Tech.
We spend literally hundreds of hours refining our products, from bench testing the mixtures, to tank testing feeding responses right through to on-the-bank fishing in the very extremes of the sport.From match fishing at the highest level to perhaps seeking out some of the most sought after specimen fish this country has to offer: bait is our passion!
North Wales members of the team use
Lionel's Tackle Shop

(Buckley) voted "best tackle shop in Wales" by the Anglers Mail 2011. For great deals, from specimine Carp to fly tackle and the latest match gear, as well as hunting equipment from decoys to shotgun cartridges, feel free to pop in and see Neil, Nikki, Dave and Lionel for great friendly advice.

Dino (nickname of Denes Lorincz) is one of the best fishing float brands in Hungary and the owner is member of the Hungarian national team too. He has many years experience on the fishing float market. The high quality floats are made of the most up-to-date materials using the leading-edge producing technology. High quality is guaranteed for each of their products! Every kind of float is available for all sort of water!









Based in Wrexham UK, Carpbait Solutions was created by Darren Bostock, who has over 20years of experience of bait creation. Darren creates 100% genuine products using the finest ingredients, that have been used to create fantastic and innovative baits that are being used to fool some of the most wariest of fish. As well as the great Carp range you can also pick up some great match fishing bait. Please click  on the banner to see the full range of great products on offer.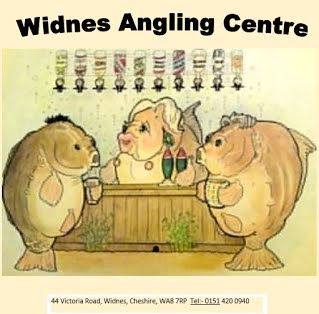 We have been established 10yrs+ in the Widnes Shop. With 30 years experience in the fishing game. In the shop we stock all the main brands of tackle and bait. We provide a in house rod and pole repair service also. We pride ourselves on being friendly and offer very competitive prices.  We have a website,
www.widnesac.co.uk
and like us on our Facebook page.

Tackle and Baits would like to offer ALL Fishing in the Northwest Members a 10% discount on there all there purchases in store or by order for the rest of 2014. To qualify for this all you have to do is visit the tackle and baits Facebook page 
https://www.facebook.com/pages/Tackle-and-Baits/721070517913835
 and click on like, when you come into the store just mention Fishing in the Northwest for your 10% discount. You can also spend as little as £0.99 for your 10% Discount. (See in store for any exclusions in this offer). 
If you have any questions you can message me on Facebook or email me on

[email protected]

 
And remember all, to keep it local, you can place your orders here at Tackle and Baits for all your Fishing Tackle and Bulk Baits needs. You can pick up in store or get it delivered to your door. (P&P Charges may apply)