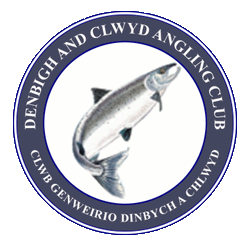 The club was officially formed in 1991 following the amalgamation of 2 neighbouring clubs – the Denbigh and District Angling Club, which started life in 1959 and the Clwyd Angling Club, one of Wales' oldest angling clubs, which could trace its roots back to 1928.
Through the amalgamation, the new club was able to offer anglers access to waters extending from above Ruthin, at the top end of the Vale of Clwyd, down to a point just outside of St. Asaph, some 14 miles away by road. Apart from a small number of sections, the club has access to either single or double bank fishing for the whole length of the River Clwyd between the uppermost and lowest beats. We believe we now offer the finest opportunities to anglers, certainly in the Vale of Clwyd, if not the whole of North Wales.
The Club also has beats on the rivers Clywedog, Wheeler and Ystrad, which are feeders into the River Clwyd, a beat on the River Elwy and a two acre lake (Llyn Clywedog) high in Clocaenog Forest.
The lower beats of the River Clwyd are kept primarily for Sea Trout, Salmon and wild Brown Trout fishing. River stocking has now ceased and the club encourages members to practice voluntary catch and release. It is Club policy to try and keep the lower beats more for the migratory angler. The lake has a natural head of wild brown trout and some overwintered rainbows.
The upper beats from Pont Telpyn, together with the Club Lake and the River Wheeler beat, are fly only. On all other beats, spinning and worming are permitted within the relevant bye-laws.
In addition to our own waters, the Club takes out a small number of tickets each year on the Bala AC waters, which increases member's options to include Grayling fishing in the winter months. These tickets are available free to members only (not guests of members). To date, we are not actually aware of any member fishing for the full 365 days in the year, though the opportunity to do so is there. The club also has an arrangement with the Ceiriog Fly Fishing Club, which allows members of both clubs access to all waters of each clubs waters, we have a similar arrangement with a club which has water on the River Tanat, on the upper Severn. We are currently seeking to provide additional lake fishing about which members will be advised as the year progresses.
Please Follow these links to see what this fantastic club has to offer.

Day Tickets.
Apply for membership.
Contact the Club